Michelle Holmes (aka Rose Pinkney) - vocals, bass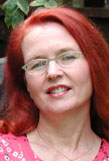 Michelle is a successful singer, musician, and songwriter. She was the lead singer and bass player for the award-winning L.A. indie rock band Moe Jones for five years and has won awards seven years running for her songwriting from ASCAP. She played with fellow musicians Doug and Steve at venues such at The Key Club, Hard Rock Cafe, The Gig, The Joint, Genghis Cohen, Hallenbeck's, and Molly Malone's. Michelle is now singing, playing, and writing for Crazy Aunt Mary, an edgy, acoustic-driven band that focuses on having a blast. She produced their first album, Sexy Epsilon, and they've been gigging around town at great venues like Rusty's Surf Ranch, Kulak's Woodshed, Maeve's Residuals Bar, Pitfire Grill, Universal Bar & Grill, The Talking Stick, Hallenbeck's, and Liquid Lounge.
As an actor, Michelle has starred on stage in New York, Chicago, and Los Angeles in such productions as "Dames at Sea," "Little Shop of Horrors," "Pump Boys and Dinettes," "Major Barbara," "Macbeth," "The Crucible" (Los Angeles Drama Critics Circle Award), "Dreamgirls" (Los Angeles Drama Critics Circle and LA Weekly Awards), and "The Miracle Worker" (Drama-Logue Award). Michelle is proud to have done six productions such as "Jesus Christ Superstar," "Nine," and "Jekyll and Hyde" with DOMA Theatre Company along with the critical and box office success "Young Frankenstein," recreating the iconic role of Frau Blucher for which she was nominated for an Ovation Award for Best Featured Actress in a Musical as well as a Stage Raw Award for Best Female Comic Performance (Los Angeles Times Critic's Choice - "Holmes brings the house down"). She has also done four productions with Crown City Theatre Company, such as "Nunsense," "I'm Just Wild About Harry," and "Nosferatu" for which she won an Eddon Award for Best Lead Performance and which will be opening at the Hollywood Fringe Festival in June. She is currently appearing in the critically-acclaimed "Hello Again" at Chromolume Theatre. On television, Michelle recurred on the ABC series "Fudge," based on the Judy Blume books, and starred as Ingrid in the cult indie film classic "A Weekend with Barbara und Ingrid." She also co-starred in the film "Angus Petfarkin Paints His Masterpiece," starring and directed by Bob Kent, and was honored to co-write the song, "Sexy Epsilon," with Steve Pinkney for the film as well as play for the film's soundtrack. Michelle also appeared in author James Frey's film, "Sugar: The Fall of the West", and co-starred in "Arrest and Trial," a Dick Wolf production, part of the "Law and Order" franchise. Michelle is represented by Hollywood Original Talent.

Michelle is passionate about animals and has been a committed vegetarian for many years.
Steve Pinkney - guitar, vocals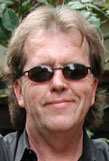 Steve Pinkney has been a guitarist since he was 8 years old, having aspired to win the affection of the younger of the Agostini sisters down the block. (Chicks like guitar players at any age.) But now he got the girl he always wanted...
A veteran of L.A bands, Steve most recently played with Moe Jones, which gigged and recorded with acclaim. Steve is now honored to play with Michelle Holmes, and he also plays guitar better than anyone you know.
CRAZY AUNT MARY INTERVIEWED!!